Avalara : Making Taxes Less Taxing
Overview:
-complexity of taxes and Avalara's value-add
-competitive advantages
-catalysts for growth
-competition
-conclusion
Avalara is a tax compliance software provider. Every business pays taxes and tax rates can vary widely based on geography, location of final sale and the type of good sold. The rise of ecommerce and international trade, along with constantly shifting taxation and reporting obligations imposed by taxing authorities has made tax compliance a very complex burden for all businesses.
A bit more on the complexity of taxes in the world: a value add of the tax compliance software industry is there are thousands of tax law changes every single year. It would take a very long time to have a team that monitors, regulates and evaluates those changes as well as manages a software platform that can support a multitude of businesses around the world.  For example, governments in the US have created over 12,000 overlapping tax jurisdictions and Avalara calculates the correct amount due within 40 milliseconds. Determining the right tax rate on a sale also depends on knowing the precise geographic location of the transaction within jurisdictions and the classification of the product within thousands of categories. These rates also vary based on time periods and transaction thresholds.
You can see the importance of overlapping tax jurisdictions here, where two adjacent houses are taxed differently on the same product: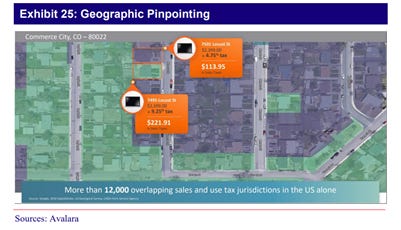 In addition to being complex, transaction tax determinations must be performed and communicated to various invoice-generating systems in real time, at the time of the transaction. Compliance is even more burdensome since all these tax determinations must be performed in real time and communicated to the invoice-generating system at the time of the transaction. The problem just gets worse for businesses that sell in multiple jurisdictions, which is common with ecommerce and globalization trends.
This is where Avalara comes in as a savior: they provide a suite of cloud-based solutions designed to improve accuracy and efficiency by automating the tax process, from identifying the right tax rates, preparing and filing returns, remitting taxes, maintaining records and managing compliance documents. Their vision is to be the global cloud compliance platform. Avalara offers its platform through the Avalara Compliance Cloud, which combines an advanced database of broad, deep and up-to-date tax content with technology for executing compliance processes. Their cloud architecture ensures that their tax content updates are immediately and automatically applied to their customers' transactions.
Businesses using their solutions can thus allocate fewer personnel to manage transaction tax compliance and focus their efforts on core business operations.
Some of Avalara's competitive advantages:
-the strength of the proprietary database which contains tax jurisdictions boundaries, tax rates, return preparation and filing requirements with real time application of taxability rules, tax determination and tax return preparation. They have 150+ tax research analysts who update their tax library to keep pace with the changing tax environment. The company has also acquired transaction tax related businesses as well as databases from different industries and geographies. AVLR aims to one day own the entire end-to-end compliance suite.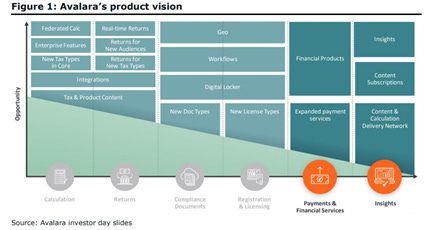 -Avalara builds its solutions on top of other core applications their customers use to process and manage their transactions, including ERP, ecommerce, POS, recurring billing and CRM systems. Their 700+ partners include Microsoft, Salesforce, Shopify, Oracle, Intuit, Wix, BigCommerce etc. Avalara pays these partners a small recurring referral commission, so partners are incentivized to make Avalara their sole tax compliance vendor. The fact that Avalara can be built upon another platform allows clients to save between 6-10 months getting the platform set up and the company has as much as 10x what the nearest competitor does in terms of these kinds of integrations. These integrations are a key point of differentiation, particularly with SMB-oriented customers that have less sophisticated IT teams.
These partnerships provide for a great distribution channel, and management believes that the combination of technology and reseller partners equates to 35,000 sales people that can refer Avalara's solutions to businesses, providing an exponentially larger reach than Avalara's direct sales team. In fact, they get over 35% of deals from partners directly and another 20% are influenced through partners. AVLR also believes there are a total of 2000 potential partner integration opportunities over the long term. The great part of having a marketplace as a partner is that marketplaces are responsible for tax compliance issues on behalf of their sellers, which means that once a platform becomes a partner of Avalara's, it's a winner take all game. Avalara's average revenue per customer is in the 25 000 – 30 000$ range, which is a lot less than hiring even one employee, suggesting Avalara's software is well worth the cost.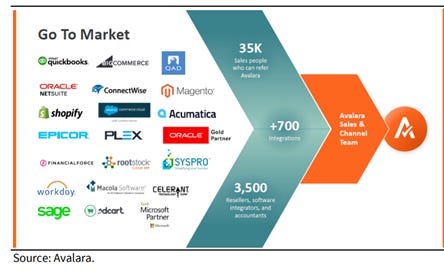 Avalara is also quite active on the M&A front, which has expanded their offerings significantly and demonstrates their track record of acquiring tuck-in technologies needed to accelerate their product road map and extend into key tax verticals.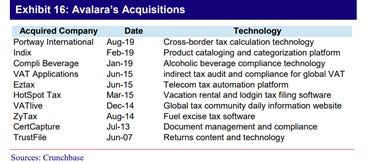 Because of their competitive strengths, their platform becomes deeply embedded in customers' business processes and systems, providing them with an automated solution central to transact. Their position drives long-term customer relationships, as evidenced by their net revenue retention rate of 111%.
The greatest catalysts for growth for the tax compliance software industry have been regulatory in nature. One was the 2018 Supreme Court decision which overruled the pre-Internet 1992 law that a state could not tax an out-of state seller if the seller did not have a physical presence in that state (South Dakota vs Wayfair). Now 46 states in the US have adopted the same rules and so, have to navigate the exceptions along the way to collecting this new source of revenue. The legislation made tax compliance a top-of-mind issue for CFOs overnight. This piece of legislation also means there will be more sellers needing tax software because their current provider or manual processes aren't sophisticated enough and small businesses just did not need to invest in this level of tax compliance. So Avalara benefits from high switching costs typical to software businesses but also from the pie growing, since this new regulatory reality means there is a multi-year tailwind of automating the previously manual task of sales tax remittance. This law also gives me great confidence that as ecommerce grows, Avalara will be a key beneficiary.
Another tailwind is that several states in the US are also facing budget deficits, and so they are going aggressively after companies to raise more taxes, which once again increases the need for tax compliance, which also reinforces the need for Avalara's offerings.
Yet another catalyst is the move to the cloud. As organizations are adopting cloud technologies for their transactions and businesses processes, that causes them to look at the stack overall and look to solutions that are based in the cloud along with the rest of their financial stack.
And internationally, there are legislative changes coming in, which is good for $AVLR. Capturing this global demand is quite important for the company, which management has described ''like a race''.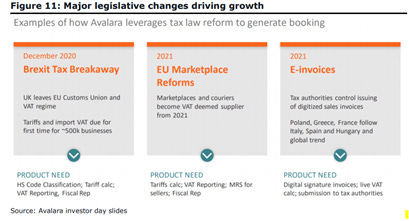 Cross border transactions (16% of all worldwide transactions) result in complex sales and use tax calculations and filing requirements. This cross-border selling is growing at a rapid rate for Avalara, but the move is still in the early innings. The company also has functionality to calculate VAT, GST and other forms of international taxes.
About competition: The space is currently less than 10% penetrated. Eventually the entire market will go from being manually in-sourced to outsourced to a software company. Supposedly (according to Canaccord), tax technology adoption at tis base is only 7.5%.
The most common competitive threat for Avalara is the maintenance of the status quo, which is most often Excel – this results in an overall favorable competitive environment.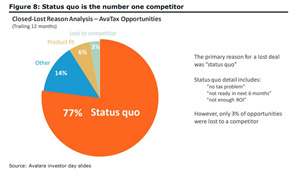 Growth strategies: broadening their base of customers (US +intl), growing revenue from existing customers, since their volume-based subscription model generates more revenue as customers' sales increase and the number of transactions processed grows, including tax return preparation, filing and remittance, expanding the partner ecosystem and broadening the content and suite of solutions.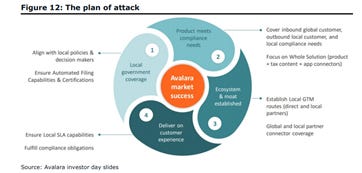 Avalara says its TAM is 8B$, but because of the regulatory changes, tuck-in acquisitions and international offerings, I think the TAM is far larger and Avalara might be understating it to not attract too much attention. The ecommerce market is expected to grow in the double teens from now till 2023 easily, and Avalara will be a great beneficiary.
The growth strategy is straightforward: expand to more geographies, connect to more systems and solve more compliance problems. CEO Scott McFarlane has stated his vision is to be involved in every single transaction on the Internet one day.
To end this case study, Avalara benefits from a great balance of technology (cloud-based, real time, superior integrations, up-to-date content), along with superior distribution and a great content library. Their value-add to customers is great, since finance teams can now save time by implementing Avalara's software instead of monitoring tax rates and rule changes, doing tax returns, etc.
They also benefit from 4 demand tailwinds: 1) acceleration in e-commerce: affects sellers nationwide, and many international, which increases tax complexity and drives demand for automation technologies, 2) broader cloud adoption, which means back office financial systems are being modernized, a catalyst to Avalara adoption, 3) ROI selling: companies know they aren't getting tax compliance right and Avalara is a means to improve efficiency, reduce headcount, and limit liability and 4) regulatory enforcement – states are increasingly facing fiscal challenges, which means there's likely to be a renewed focus on enforcing tax laws, so it's critical sellers are in compliance.